Inner Child Dillypoo:
Moon Pies!
Grown Up Dillypoo:
No. There will be no Moon Pies today!
Unhelpful Co-Worker:
They're really good in the microwave!
Grown Up Dillypoo:
Argh!
Inner Child Dillypoo:
Yay!!!!
For the record, the vanilla was better than chocolate. Who'd a thunk that?
And on other notes of celestial significance, did you see
Venus
last night? It's orbit passed between Earth and the Sun, something that only happens every 106 years or so.
Dillypoo dug out her eclipse-viewing glasses to see it:
It looked like a little black pimple on the sun, but it was really cool to see! I handed the paper and Mylar specs to The Professor: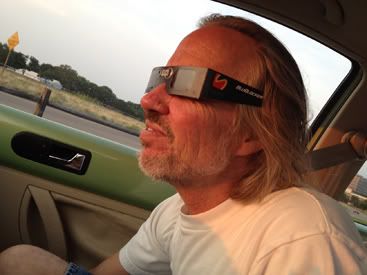 But he couldn't see the spot. Probably because he forgot to wear his glasses when we left the house. The boy's eyesight ain't what it used to be.
I'll be 153 the next time Venus comes to visit. My eyesight will probably be shot by then, too.
Not that The Professor is 153 (although sometimes he acts like he is).
Anyhoo, it was fun watching Venus move across the sunset. Sometimes it's good to remember there's a whole other world (or worlds) out there.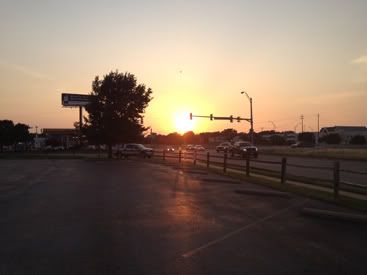 Update: I just realized that this is my 500th post! I think I'll consider those two Moon Pies a celebration and call it a night.