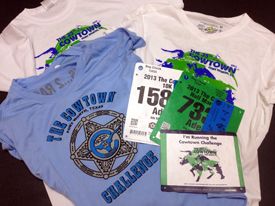 It's over! The 2013 Cowtown Marathon was this past weekend and Dillypoo ran two races in two days...
again
.
And guess what? Despite an inconsistent training regimen, I managed to PR (set a personal record) on BOTH runs!
My official race times were 1:04:49 on the 10K and 2:27:27 on the half, still personal records!
My legs are still a bit wobbly today and I'm pretty sure I'll find bruises under my pedicure, but it was totally worth it.
Foggy glasses had me running blind during Saturday's race.
I didn't set out to break any records, they just sort of happened. The weather was cool (well, COLD), especially Saturday morning. I had to remind myself to slow down during the 10K because I was only running it as a warm up for Sunday's half-marathon.
But then my glasses fogged up and the only thing I could see was a guy in a neon yellow jacket directly in front of me. So I paced myself with him, and obviously, he was running a bit faster than I would've on my own (and he was pushing a wheelchair entrant).
Thank you neon man!
On Sunday, I ran with my iPod nano because my iPhone battery wouldn't survive the distance if I was listening to music while running my Nike+ run app. This meant I couldn't get the app's feedback on timing and pace during my run, and I started out a bit faster than I should have. I eventually pumped up the volume on my phone and listened to the nano with one earbud so I could catch my timing and pace occasionally, but that early burst gave me the little bit of lead I needed.
A friend's husband, shot the entire marathon from their high-rise apartment. That's me in the center!
Both bridge photos are copyright Brian Luenser and used with his permission. Thank you, Brian!
The last half mile was beastly -- across another bridge and around the coliseum to the finish line. Unbeknownst to me, The Professor had walked the three miles or so from the house to the bridge and spotted me as I made my final push to the end! I didn't see him, but he swears he paced with me for a short distance before letting me run ahead.
And remember my phone battery? It died as soon as I crossed the finish. On a whim, I borrowed a stranger's phone after the race to text The Professor I was done, my phone was dead and I'd be home within the hour. Then the stranger handed his phone back to me when The Professor texted back he was on the premises looking for me!
It took a while, but we eventually found each other and he got a big sweaty hug and I had a chauffeur to drive me home. Win win!
12,000 runners and I spotted my only co-worker also running in Sunday's crowd!
I ended the weekend with ice packs on my knees, a celebratory pancake breakfast and an early evening in bed to watch the Academy Awards on tee vee.
Mmmmmm!
Oh, and I'm feeling good about tomorrow's weigh in. I'm wearing my size 6 jeans today and they're
comfortable
! Woot!