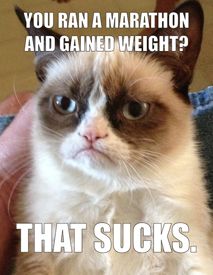 Frustration has turned to anger. Dillypoo ran 19 miles in two days and GAINED 3.6 pounds.
WTF?
I weighed in again last night and managed to drop .4 pounds since last week, but I still weigh in at a number I haven't seen since June 2010. And it SUCKS.
I keep trying to focus on the positives: I am stronger, leaner and more fit than I was in 2010, but I can't ignore the fact that my pants are getting snug.
So what's a Dillypoo to do? Make some changes, of course.
Re-evaluate the Tools at My Disposal
Weight Watchers has been, and always will be, my best resource for accountability and staying on track. I like the Points Plus system and their emphasis on nutrition and living a healthy lifestyle. And even when they
change things up
, I remain faithful and trusting that the plan works.
If followed.
This year Club WW changed how activity points are earned. They have a new $40 gadget (with a $5 recurring monthly fee) called
ActiveLink
that monitors your movements throughout the day. I've resisted buying into the new program because a) I'm cheap and b) I didn't want to wear a doohickey all day, every day.
Besides, I'm ACTIVE. I don't need a device to tell me that!
But since I need to make changes (and because I think Dillypoo's body/metabolism/whatever has become used to my runner's level of activity), I decided to trust this newest offering in the WW tool box:
Supposedly, ActiveLink will determine what my "normal" level of activity is and withhold some of the points I've been chasing until I exceed that normal.
I have a feeling I won't be earning 6-8 points for a typical morning run anymore.
Change No. Two
Dillypoo is hungree. All. The. Time.
I boot camp three days a week and run three days a week. And now I'm training for a triathlon, so I'm adding swimming and biking to the mix, too.
All of that activity builds up an appetite, and nobody has ever accused Dillypoo of being a light eater.
That's how I got to this blog in the first place.
I've made significant changes to my food regimen over the past four years, but it's time for another close look at my daily diet. I think I'm hungry all of the time because of what I'm NOT eating rather that what I am.
A typical breakfast for me is one or two pieces of fruit, 6 oz of non-fat, flavored yogurt and either whole grain cereal (usually oatmeal) or toast with nut butter and honey. Lunch is usually a sandwich with soup, vegetables and fruit. A normal dinner includes a lean meat like chicken or beef, rice or noodles and vegetables. I snack on fruit, yogurt, light cheese and Goldfish crackers.
I LURV Goldfish crackers!
What is missing from all of that is PROTEIN. I need to add eggs to my breakfast and meat or beans to my lunch. And I need to change up my snacking to include nuts and seeds.
In theory, if I eat more protein I'll be less hungry, better fueled for my activity and less likely to devour all of my WW points (and then some).
I've heard about tracking meals a day or two ahead of time, but I've never tried it. Since Dillypoo is all about change this week, I'm going to try pre-tracking, too.
Last night I tracked my meals for today, and so far I've stayed on plan. I'm actually overdue for a snack right now.
Tonight I'll figure out what my meals will be for tomorrow, which is a good thing because I have a vendor lunch planned. I get to choose the restaurant, though, so that will help. Someplace healthy, someplace lean.
Like seafood. Or sushi.
Keeping it in Perspective
I know I shouldn't focus on the scale, and I'm trying not to. I know I'm in a better place today than I was in January 2009. I can run half-marathons, for cryin' out loud!
It may be that my goal weight needs to change to account for a leaner, denser me, but only if my skinny jeans fit.
And those skinny jeans are hanging in the closet, like a goal post.