I did it! Dillypoo completed her first triathlon!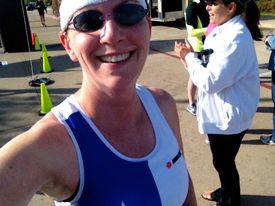 Finish line selfie!
Training for this event is the hardest thing I've ever tackled, but I. DID. IT.
There's a misconception that the "tri" in triathlon is for three events: swimming, biking and running. It actually stands for blood, sweat and tears. Or sunburn, sweat and tears, depending on the weather.
I kinda sorta forgot sunscreen last week.
I didn't sleep well last night. I dreamed I arrived early and fell asleep on the pavement in front of my bike. When I woke, I was surrounded by competitors but couldn't find anyone to check me in and mark my arms and legs with my bib number. I even drove to another town to start over but couldn't get checked in there, either.
When my alarm actually went off at 4:30 this morning, I arose in a restless state of managed panic. But anticipating a less than peaceful night, I'd packed my race kit before hitting the sack. All I had to do this morning was dress, fix breakfast, fill my water bottles and poke The Professor awake.
The Professor is many things, but morning person he is not. However, he'd agreed to be my chauffeur, for which I am thankful. But dealing with a non-morning person at that gawd awful hour requires keeping chit-chat to a minimum. Anything more conversational than "good morning," "thank you," and "I'll call you when I'm done" can be ambitious (and sometimes dangerous). Lucky for both of us, my anxiety level prevented me from attempting anything more than "good morning," "thank you," and "I'll call you when I'm done."
I think I can, I think I can, I think I can...
Mother Nature evidently didn't get the memo that Dillypoo was rising early today for a trifecta of insanity. It was cold and just a bit windy, which meant after I set everything up, I had to strip down to my trisuit and run barefoot, shivering and blind to the pool.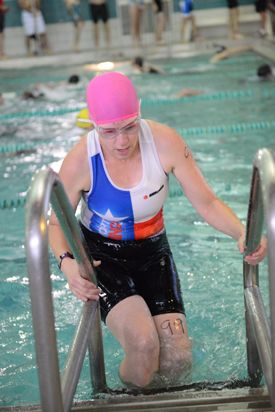 Me and my sausage tri-suit.
After my swim, I had to run barefoot, shivering and blind back to the staging area to put on my glasses, shoes and jacket and start the event I was dreading most: The Bike Ride.
Aaaaaagggghhhhhh!
I started out frozen to the handle bars but finished in record time (for Dillypoo) with frozen feet. Which made the run just THAT MORE FUN.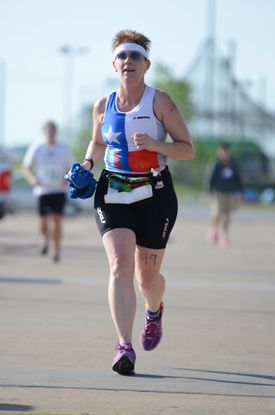 My feet didn't thaw until the half-way point.
In the end, I finished 134 out of 149. But, dammit! I DID IT!
Now I have to decide if I want to do it again.